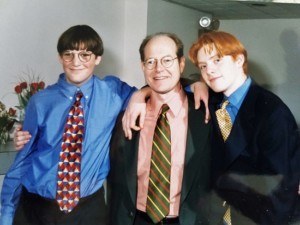 For those hoping to become fathers through adoption or assisted reproduction, the question of what it means to be a father looms over Father's Day. Is it nature or nurture? DNA or presence in a child's life? Physical or emotional synergy?
Ringside, a probing new documentary, lands a stunning gut punch exposing the foundational meaning of fatherhood. Over nine years, beginning in childhood, director André Hörmann traces the private and professional lives of two gifted boxers, Kenneth Sims Jr. and Destyne Butler Jr., coached by their fathers.  Far from a boxing movie, at its heart, the film is about the irrepressible devotion of the fathers to their sons, whose diverging paths take dramatically tragic and hopeful turns. Watching the parents face their children's heartbreaks and triumphs with constancy, ferocity, and love—never giving up on them—is immeasurably inspiring.
The dads in Ringside contributed an enviable dose of athletic DNA to their sons, as well as passing on their own invaluable boxing experience through unflinching coaching. Yet the images that linger are the fights' conclusions when the fathers tenderly cradle their children weeping in defeat or beam radiantly as their sons' arms are raised in joyous victory, the years of courage, dedication, and guidance pulsing through the images.