The optimism and determination that percolated during the pandemic lockdown, inspiring hopeful parents to pursue surrogacy, assisted reproduction, and adoption, were highlights of 2020, as were two important pieces of legislation.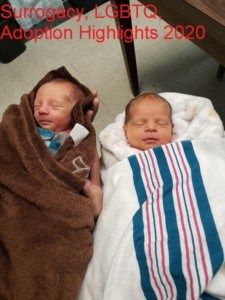 2020 will go down in reproductive rights history as the year New York State passed a law legalizing gestational surrogacy – The Child Parent Security Act – ending the state's status as one of only three in the nation that outlawed the increasingly effective path to parenthood for LGBTQ families and those facing infertility! As of February 2020, New Yorkers finally will be able to act as compensated or uncompensated gestational surrogates or become parents through gestational surrogacy by entering enforceable gestational surrogacy agreements. The CPSA contains strong protections for gestational surrogates, intended parents, and the children born through surrogacy. Participants can obtain court orders before the birth of a child declaring the intended parents as the sole legal parents of the child.  After the birth, the New York Department of Health will issue a birth certificate listing the parents established in the order of parentage.
2020 will go down in reproductive rights history as the year New York State passed a law legalizing gestational surrogacy.
Strengthening the rights of LGBTQ parents, New Jersey enacted a confirmatory co-parent adoption law that streamlines adoptions for non-gestating or non-genetic same-sex spouses and civil union partners. The new law dispenses with the ordinary lengthy and expensive adoption process requiring a homestudy by a licensed agency and criminal and child abuse clearances. Instead, the co-parents file a joint petition for adoption with proof of their marriage or civil union and the assisted reproduction that resulted in the pregnancy. The court issues an order of co-parent adoption, which is irrefutable proof of the non-gestating or non-genetic spouse or partner's parentage.
The most moving highlights were the profound connections between birth parents and adoptive parents, gestational surrogates and intended parents, and ova and sperm donors and recipients. An adoptive mother served as the support person for the birth mother during delivery, and the two cared for the precious newborn together in the hospital with mutual respect and kindness. A compassionate, uncompensated gestational surrogate and her husband, their respective brother and brother-in-law, and sister-in-law, exuberantly executed their gestational surrogacy agreement on zoom. A nephew openly discussed his altruism in donating sperm so that his aunt and uncle could conceive a child. Judges rejoiced in virtual hearings finalizing adoptions with  adorable babies climbing on their doting parents' laps.
The overriding highlight of 2020 was witnessing reproductive rights and love trump COVID-19.