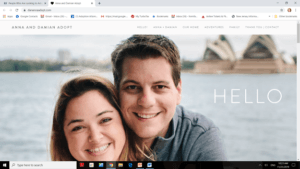 Here are six tips for adoptive parents to connect with birth mothers.
1. CREATE AN ADOPTION WEBSITE
Today the internet is the universal avenue for finding answers to questions and making connections. Women seeking adoption in the face of unplanned pregnancy search online to connect with adoptive families. That means prospective adoptive parents need an online presence, and creating an adoption website is a vital tool for being selected by birth mothers seeking adoptive families for their children. The website should contain a description of the     adoptive parents, the home and life they have to offer the baby, parenting philosophy, an empathic approach to the birth mother, and, most importantly, warm photos. Make sure the website can be navigated easily on a cell phone.
2. NETWORK WITH FAMILY, FRIENDS, AND CONTACTS
Enlist the help of all contacts by making them aware of the desire to connect with women experiencing an unplanned pregnancy: friends, relatives, colleagues, doctors (not just obstetricians, but all doctors, including pediatricians), nurses, social workers, clergy, congregants, counselors, and teachers. Announce the adoption quest on listservs and in community forums.
3. POST ON SOCIAL MEDIA
Create Facebook and Instagram adoption accounts and post on them regularly.  Get friends, family, and colleagues to share the posts.
4. PARTICIPATE IN ADOPTION FORUMS ONLINE
Join and participate in adoption forums online like Facebook adoption groups.
5. ADVERTISE
Place Google keyword adoption ads. Consider hiring a professional for ad placement to obtain the best quality clicks and get the best use of the advertising budget.
6. KEEP THE ADOPTION SAFE AND LEGAL
To keep the adoption safe and legal, be sure to vet the website, networking, social media, forum participation, advertising, and communication from birth mothers who respond through an experienced adoption attorney.