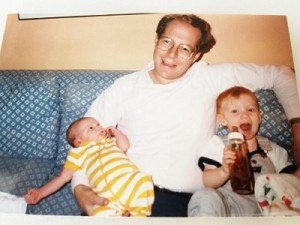 "Almost Father's Day," my husband and I would lament wistfully, first as we struggled with painful infertility, and then when we were working as hard as we could to adopt. As Father's Day approaches this Sunday, I remember vividly the warm smiles on our faces, and the hot tears held back bravely, as we attended Mother's and Father's Day brunches and barbecues, rejoicing with friends and family who were already parents.
We did not give up and, ultimately, adopted our two extraordinary sons. Both kids came to us eighteen months apart, through baring our souls to everyone we knew, which led to one of my Adoption Ten Commandments:
COME OUT OF THE CLOSET AND BROADCAST YOUR DECISION TO ADOPT.  Inform as many people as possible about your desire to adopt – friends, family, acquaintances, business associates, doctors, dentists, teachers, clergy, congregants, nurses, social workers, counselors, college roommates.
Our older son was already born when we received a miraculous phone call from our rabbi about him. We became overjoyed (and stunned) parents just two days later. Our younger son was born three weeks after we received a call from an attorney – a friend of a friend – telling us about an expectant mother looking for adoptive parents. Hence another of my Adoption Ten Commandments:
NEVER GIVE UP HOPE. Do not allow yourself to be discouraged by setbacks.  Remember that you are one lucky email, text, or phone call away from your dream.
The dream of becoming a parent, whether the old fashioned way, or through adoption, assisted reproduction, or surrogacy is attainable. My wonderful rabbi, Felicia Sol, says about becoming a very happy single mother: "Dreams come true, just not necessarily the way we imagine they will."
I wish a very Happy Father's Day to all dads and a Happy Almost Father's Day to all those hoping to become dads.