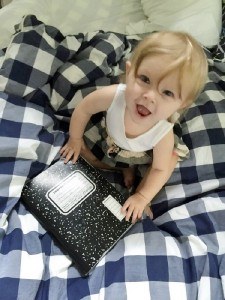 A birth mother discusses adoption honestly and passionately in an interview with me this week. Jackie, an articulate 23-year-old, who placed her daughter for adoption in December 2015, describes how she chose adoption and faced pain, certainty, and, ultimately, happiness in her decision.
Robin: Jackie, my readers want to understand adoption from a birth mother's point of view. I'd like to ask you about your adoption experience. First, why did you want to place your daughter for adoption?
Jackie: In my life, I was not ready to be a mom again. I have a 4-year-old. I could not take on the responsibility for another child.
Robin: How did you find the adoptive parents in your adoption?
Jackie: I found the adoptive parents online, I believe, on craigslist.com. They were the fourth link I clicked on and I knew they were the ones. We developed an open relationship from the first phone call.
Robin: Did you have an idea of what you wanted in adoptive parents?
Jackie: When it came to adoptive parents, I wanted my baby to be their first baby. I did not want a super religious family, but a family with some religious beliefs. Careers were a big thing for me, as were having an established home and a big extended family. I wanted the adoptive parents to live far away from me and for us not to have friends in the same circles.
Robin: Did you want an open adoption?
Jackie: I wanted a semi-open adoption from the beginning. The adoptive parents would be there when baby would be born. Afterward, I wanted photos and updates. I did not want to visit afterward. I am glad that it is not part of our plan. I don't understand how a birth mother could visit once a year and then say goodbye.
Robin: How was the hospital experience in your adoption?
Jackie: We were prepared for the possibility of negativity at the hospital. I was a very proactive birth mother at the hospital so the hospital was very good to me. They understood what I wanted. I wanted to leave 24 hours after my baby was born and they helped me do it. The hospital staff told me that if I changed my mind, they would support me. That felt comfortable.
Robin: What advice would you give to a pregnant woman considering adoption?
Jackie: It is very important not to second guess yourself in the process. When you feel like you know who your adoptive family is, you should trust yourself. Another thing is dealing with the pain because there is so much pain. You feel endless pain, like your child died. It's a pain that you want to make go away, but keeping the baby is not the answer. I am so happy when I see my child's life. It reminds me that adoption is the best decision. Keep yourself grounded. When you hold your baby in the hospital, you can't imagine that you won't be a huge part of your child's life. I became a bitch to myself. Your body wants the baby. Your boobs want to feed the baby. Your ears hear the baby. I had to tell myself: "You don't want this baby!"
Robin: Were people supportive of your adoption plan?
Jackie: Everyone was supportive. Everyone was cheering me on. Everybody knew what I wanted and why.
Robin: What has helped you to heal?
Jackie: Keeping the communication open. When I think of people who do not get a photo or hear from the adoptive family that seems terrible. Getting updates and seeing how my daughter is doing helps me.